How long does it take to sell your house?
The average time it takes to sell your house is 6 weeks (based on nationwide statistics). However, whether you are buying or selling a house, the timeframe can vary depending on your situation.
For example, there is a table below that represents the time a property will take to sell depending on the region its in.
Source: Hometrack
| | |
| --- | --- |
| Region | How long does it take to sell? |
| East Anglia | 5 weeks |
| East Midlands | 7 weeks |
| Greater London | 4 weeks |
| North East | 10 weeks |
| North West | 8 weeks |
| South East | 4 weeks |
| South West | 6 weeks |
| Wales | 5 weeks |
| West Midlands | 8 weeks |
| York & Humberside | 9 weeks |
| National | 6 weeks |
In largely populated and highly desirable areas like greater London, a property can be sold in just 4 weeks. Where as in regions such as the North East it can take on average 10 weeks due to low demand.
There are also particular months in the year, which are more suited for the sale of properties. For example in busy months such as the run up to Christmas (Nov, Dec, Jan) according to rightmove on average it will take longer to sell your house.
Source: Rightmove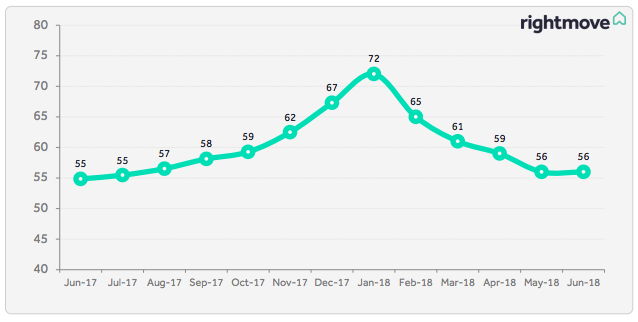 (Average time in days it takes to sell a house)
Once you have accepted an offer on your house there are other things to take into consideration before the process is complete. For example from the exchange of contracts to completion can take up to 4 weeks. When the house sale is complete, and the contracts are signed the process of moving house can begin.
What makes a house sell quickly
Price
Knowing what figure to price your house at is crucial for the time it takes to sell your house. Valuing your house too high can put off buyers, however you don't want to price your house to low either. Rightmove research shows that having a competitive and realistic asking price from the beginning helps to attract immediate buyer interest and increase the chance of an earlier sale.
Location
The location of the property is key to calculating your price, and therefore the timeframe of your sale. This is an aspect of your home that you have no control over. As you can see from the table above different geographical areas seem to have different levels of attractiveness and demand. However, it is all about putting emphasis on the positives, selling the good qualities of your house and the area that its in.
Condition
The condition that your home is in is a key attribute to selling your house quickly. Potential buyers need to be able to visualise themselves in the house that they are viewing. Having a nicely decorated, uncluttered, clean house can help emphasise key factors such as lighting and space.
The right estate agent will help you take all of these factors into consideration, producing a sale that is tailored to your house.
There are properties that will sell in a few weeks of being on the market, whereas for others they can sit on the market for years. Sometimes you just have to be selling in the right place at the right time.
At LetsMove we will help you every step of the way when selling your house. From arranging viewings, and proffessional photography to sales negotiations.
To view our selling options please click here.
Call us on 01952 825987 or email info@letsmovepropertymanagement.co.uk to find out more.